Overview
The National Service Scheme (NSS) is an Indian government sponsored public service program conducted by the Department of Youth Affairs and Sports of the Government of India. With the motto "NOT ME BUT YOU" NSS aims to make student youth better citizens through "Development of their personality through Community Service". Team NSS of YMTDC is established in December 2019 holds a vison to contribute to society through various social service activities in the area of Health, Family Welfare and Nutrition Programme, Education, Environment Enrichment and Conservation, and Women Empowerment.
Team NSS of YMTDC comprise of 50 student volunteers and faculty team. The members of NSS faculty team are:
Dr.Meghna Vandekar - Chairperson NSS (Dean, HOD of Dept. of Orthodontics)
Dr. Purvi Bhate - Programme Officer (Dept. of Public Health Dentistry)
Dr. Thomson D'cruz – Assistant Programme Officer (Dept. of Oral and Maxillofacial Surgery)
Dr. Ankita Kadam - Assistant Programme Officer (Dept. of Prosthodontics)
Dr.Yash Shekatkar- Advisory Board Member - (Dept. of Orthodontics)
Dr Tejas Pol- Advisory Board Member - (Dept. of Orthodontics)
Dr Dheeraj Kalra- Advisory Board Member - (Dept. of Public Health Dentistry)
Dr Renu Taywade- Advisory Board Member - (Dept. of Public Health Dentistry)
Mr Suraj- Administrative Clerk
Ms .Priti Ranka- NSS Student Leader
Mr. Karan Jain - NSS Student Leader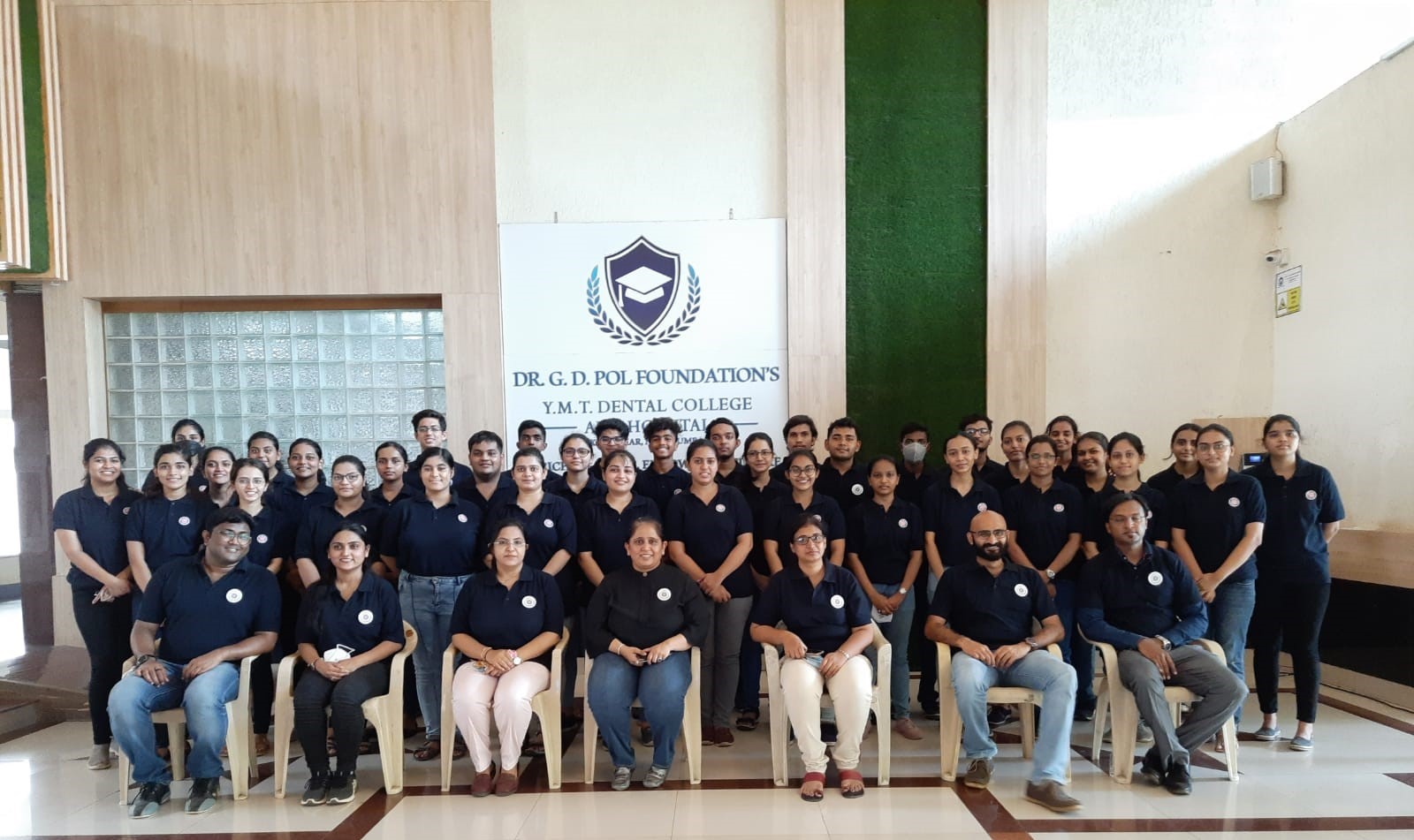 STUDENT MEMBERS
THIRD YEAR B.D.S.
SECOND YEAR B.D.S.
Bhagyashri Potdar
Dhanashree Hatolkar
Mahek Ali
Mugdha Bharati
Aparna Sawant
Shweta Mishra
Damodar Shanbhag
Jagruti Mohite
Rutika Patil
Bhagyashree Misal
Vaibhav Jadhav
Sakshi Shriwastava
Siddhika Pandey
Veda Pawar
Prarthana Gandhi
Rohit Yadav
Rucha Palwe
Divya Suresh
Swastik Parashar
Swati Shingare
Khushbu Jain
Rutuja Fitwe
Anushaka Shetkar
Nishita Kapadia
Disha Vichare
Pranjali Tayade
Srushti Rane
Vishakha Jain
Himani Singh
Sakshi Kandalkar
Rinku Hazra
Jaydeep Koyande
Tatva Keswani
Pranjal Kudase
Rahat Anwar
Shashank Patila
Rushabh Agarwal
Saloni Mutha
Sankalp Rajpange
Utpreksha Patil
Janvi Sarkar
Neha Latthe
Manali Zine
Vasundhara Jain
Kuljeet Oberoi
Shruti Waghmare
Ishanee Dhore
Devan Gaggar
Events
28th January 2021- Launch and Orientation about NSS to Volunteers
Under the guidance of Patrons Dr.G.D.Pol, Director Dr.Kavita Pol and Dean Dr.Meghna Vandekar, the NSS UNIT in the college was launched. It comprises of the NSS Faculty Team & 50 NSS Student Volunteers Team. Official investiture ceremony began at 10 am was in which the officer bearers were announced and batches were handed over. Prof Sabah Amhed Rizvi, Programme Officer of NSS Unit of Pillai College of Arts and Commerce delivered a Orientation lecture about NSS to the volunteer's.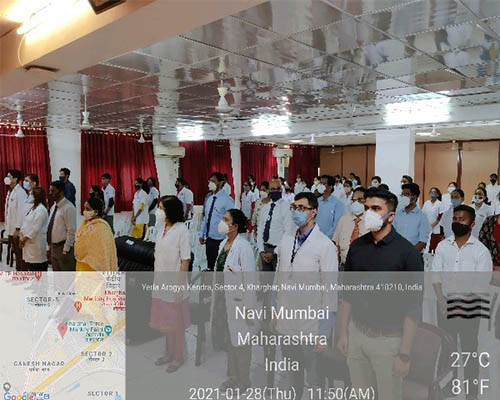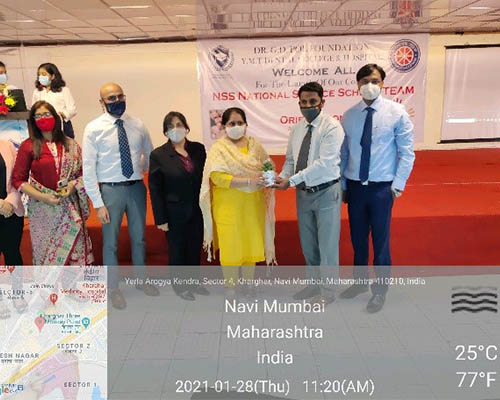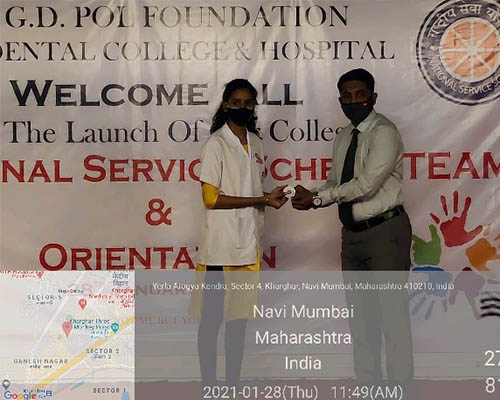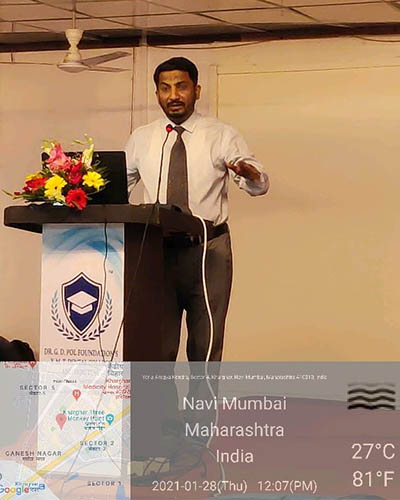 8th March 2021 - Women's Day Celebration
Team NSS celebrated the International Women's days on 8th March with our Guest of Honor Prof Dr.Sabita Ram , the Director Research at MGM Institute of Health Sciences Navi Mumbai. She expressed her views on changing roles of women in today's world. Our dynamic Dean, Dr. Meghna Vandekar, shared her thoughts on empowering women. Prof Saloni Mistry also delivered Lecture to Class IV Workers on Menstrual Health Awareness. A Nukkad Natak – LADIES SPECIAL which was preformed by the 3rd year NSS Volunteers, showcasing the life of today's women from different walks of life. Written and composed by herself, Miss Dhanashree Hatolkar, performed an uplifting song, persuading women to rise up, be bold and create history.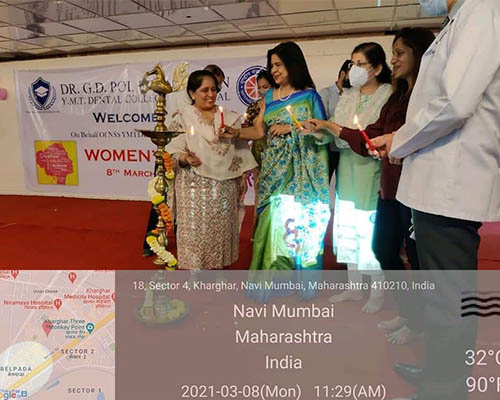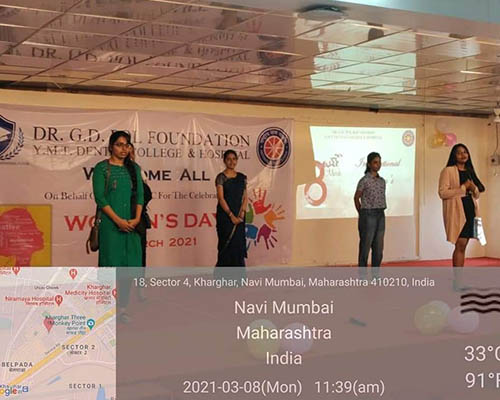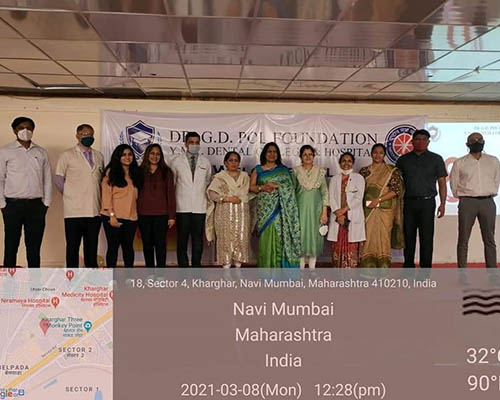 Special Camp Activity
Under the able guidance of Patron G D Pol Sir, Director Dr.Kavita Pol, and Dean Dr.Meghna Vandekar Mam, the special camp was conducted from 21st March -27th March 2021 at Koleti Village in Pen Taluka and Shetpalas village in Roha Taluka both of which are located in Raigad District, after obtaining the due permissions. The camp was organized in collaboration with a NGO Sakav Pen Prakalp -Raigad. The theme of the camp was "Health & Cleanliness Camp" also known as "Arogya and Swachata Shabir". The no of NSS Volunteers participated in the vamp were 25 and the additional non NSS volunteer's participants were 5 faculty, 2 Dental hygienist , 7 Intern student, 6 Post graduate doctors. Thus total additional volunteers were 16. As the camp was conducted amidst the pandemic, safety protocol was set up so as to safe guard every one health. Temperature check and SpO2 levels were checked every day.
Day 1- 21/03/2021-Inauguration & Swacch Bharat Abhiyaan at Koleti Village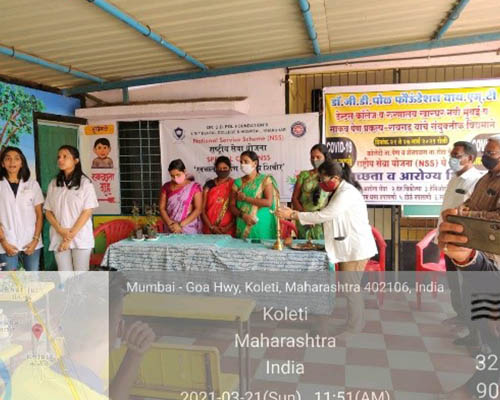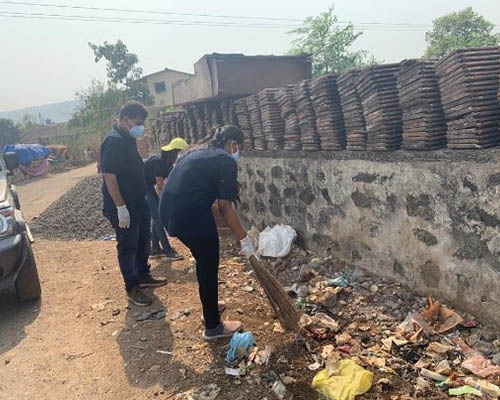 Day 2- 22/03/2021- Homeopathic Check-up & Door to door survey at Koleti Village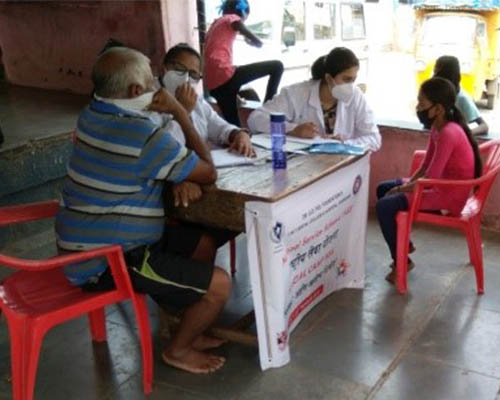 Day 3- 23/03/2021- Dental Health Check-up & Oral Health awareness talk at Koleti Village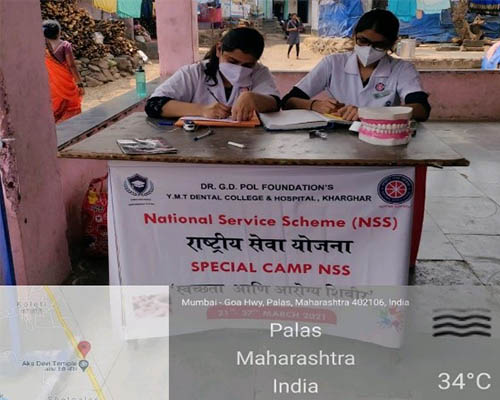 Day 4- 23/03/2021 activity door-to-door survey at Shetpalas Village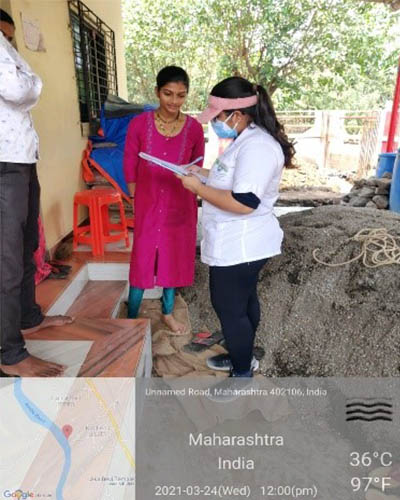 Day 5- 25/03/2021- Homeopathic Check-up & Door to door survey at Koleti Village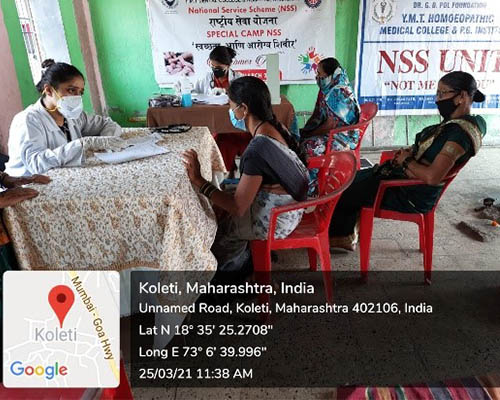 Day 6- 22/03/2021- Homeopathic Check-up & Door to door survey at Koleti Village
Dental Health Check-up and Oral Health awareness talk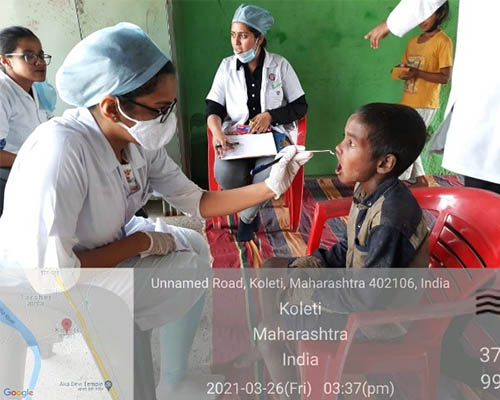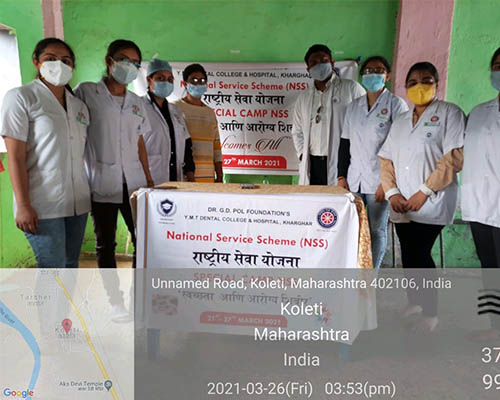 Day 7- Saturday, 27th of March, 2021
Eye check up and felicitation.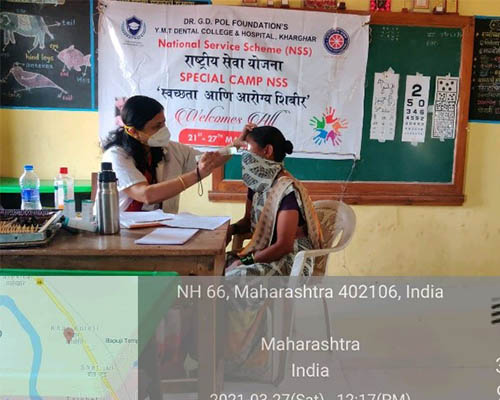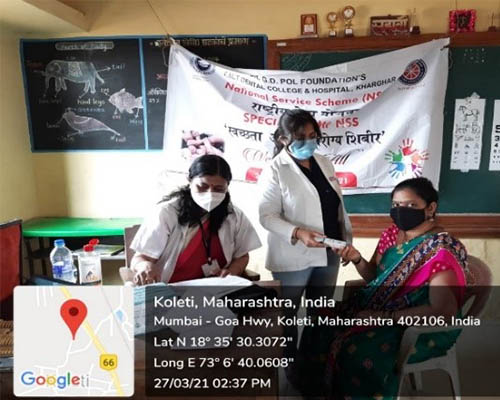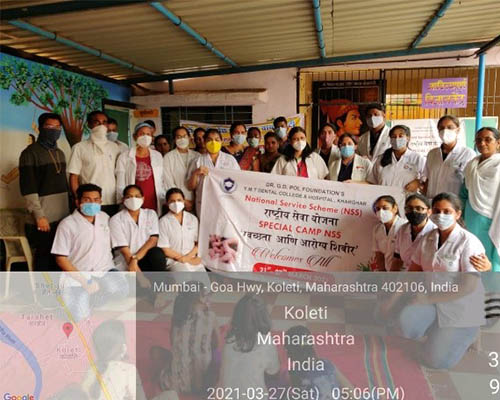 Online lecture on occasion of WORLD HEALTH DAY focusing on Stress Management on the topic "Beating Stress away"
On Occasion of WORLD HEALTH DAY webinar was conducted on the Topic "Beating Stress away" on 16th April 2021, which was attended by 72 second and third BDS students which helped with stress management techniques in this unpredictable time. Speaker Dr. Datta Rokade who is a life coach and Founder and Owner of New World Maker-Corporate Training & Coaching Firm; taught various stress management techniques to our students.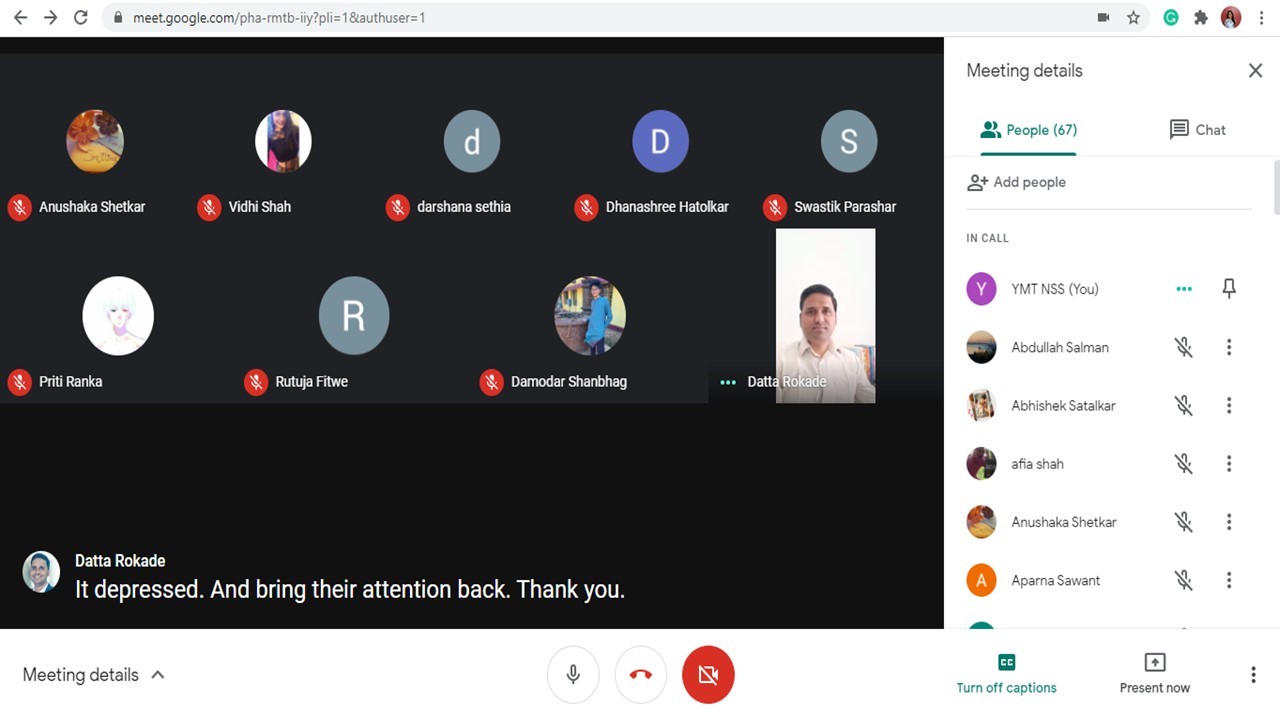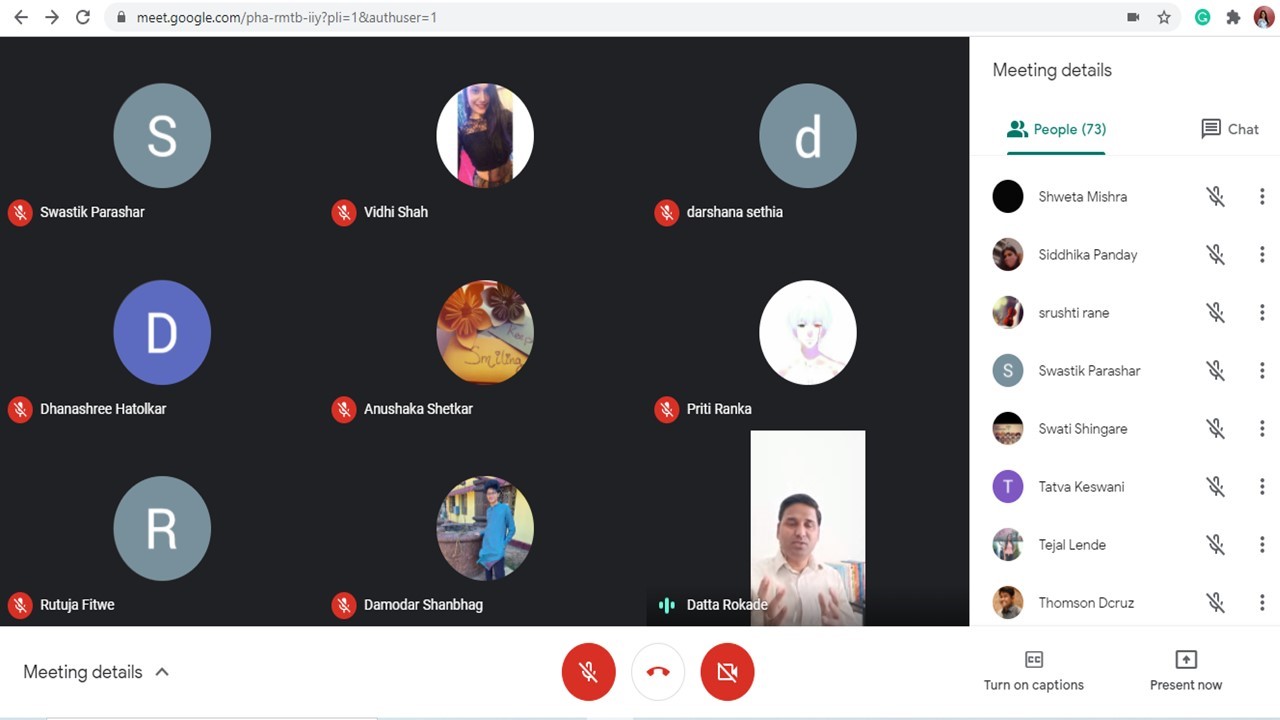 Essay Competition on 75th year of Independence Day in the year 2021
Online essay competition was held on mark of "75 years of Independence: A Curse or A Boon" .The winners are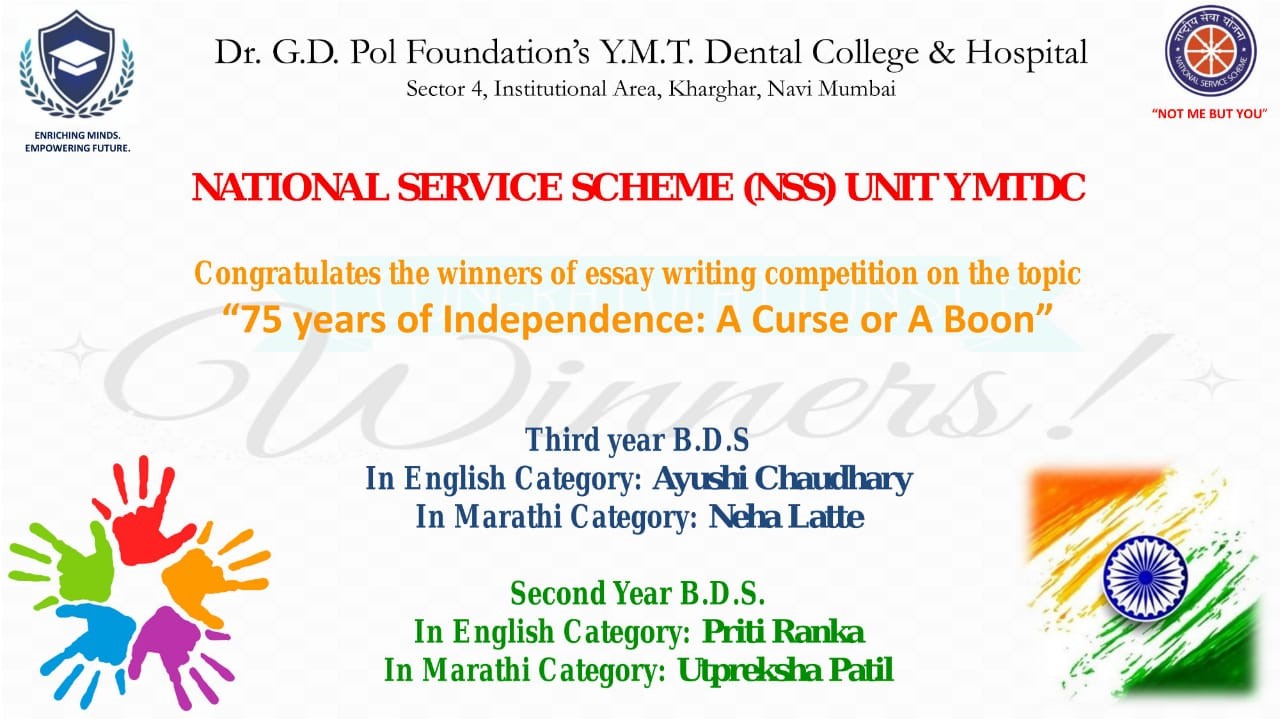 E poster Competition on World No Tobacco Day on 31st May 2021
Volunteers from Team NSS participated in the poster competition on the theme – "Commit to Quit" which was in line with WHO theme of World No Tobacco Day.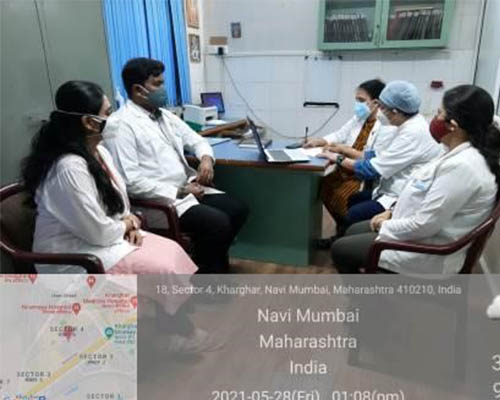 International Yoga Day Celebration 21st June 2021
Amidst the pandemic NSS Team YMTDC celebrated International Yoga day through online session for 50 NSS Volunteers and the 23 Faculty of college which was conducted with yoga Instructor Mr.Sanjay Ketkar and demonstrator Dr. Mrunalini Vaidya.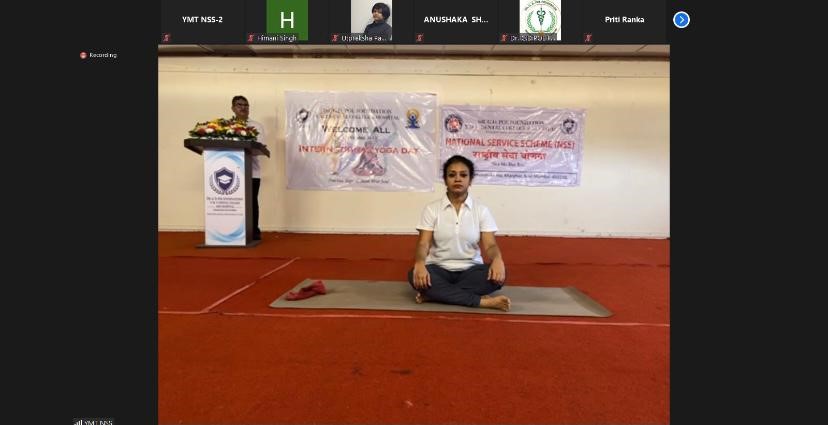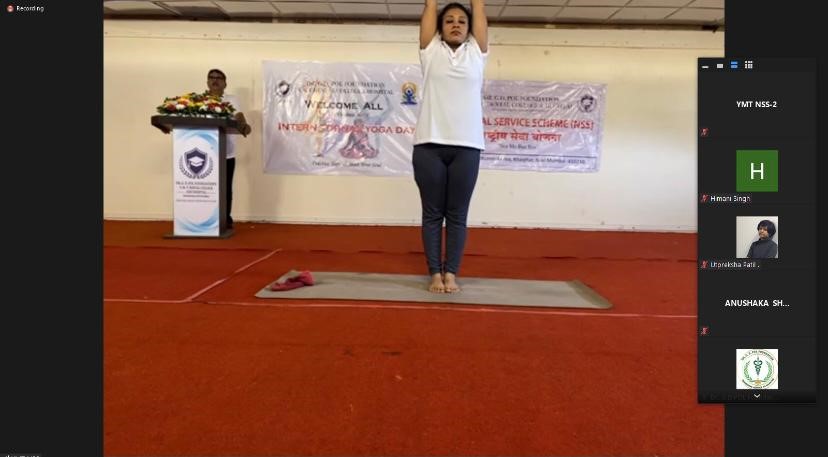 Van Mahotsav Celebration on 6th July 2021
He who plants a tree - Plants a hope.! Under the guidance of Director Dr.Kavita Pol and Dean Dr.Meghna Vandekar, team NSS YMTDC celebrated Van Mahotsav on 6th July by planting trees in the College Campus. NSS volunteers distributed seeds to HOD and staff members to encourage plantation. NSS Programme Officer Dr.Purvi spoke about importance of Van Mahostav.