POST CONFERENCE REPORT
METANOIA 2022 -Event Summary  
Metanoia 2022- Journey to scientific excellence, a 2 day scientific convention was organized on 5th December and  6th  December  2022 , under the guidance of the Patrons Dr.G.D.Pol, Dr. Kavita Pol, and organising chairperson, Dean,Dr. Meghna Vandekar.
Number of Attendees:
225 attendees registered for the conference. The registered delegates were undergraduates,interns, postgraduates and faculty members of YMTDC
Overview over the two days: The conference was accredited with 8 MSDC points. Three distinguished alumni of YMTDC were invited as the keynote speakers.
Day 1 – The day started with registrations followed by the inauguration ceremony.
The morning session began with a keynote lecture by Dr.Makarand Deshpande on 'Functional Smile Design – Analog to Digital workflow' the session was chaired by Dr.Saumil Sampat and Dr.Vinay Dole from the department of Prosthodontics. This was followed by the lecture of Dr.Arnie Panchamia Kokate on 'Teeth Whitening and Bleaching' ,chaired by Dr.Mrunalini Vaidya and Dr.Ushaina Funibanda from Department of Endodontics. The last lecture before the lunch break was delivered by Dr.Nikhita Gune on 'The Dentist's Toolkit for managing children in the operatory'.It was chaired by Dr.Subhadra and Dr.Roshani from the Department of Pedodontics.
The afternoon session had a hands-on on'Dental Photography' conducted by Dr.Rajesh Kuril , professor & Dr.Rohan Bhagat ,Alumni from the Department of Orthodontics. The session also had Paper and poster presentations based on the theme' Digitial Dentistry'
Day 2: The morning session started with a guest lecture of Dr.Amit Benjamin,HOD ,Department of Periodontics, on'Lasers in dentistry'. The session was chaired by Dr.Karthik B. and Dr.Aishwarya from the department of Periodontics.Following this there was Scientific Quiz – Back to the Basics .The quizmasters were Dr.Gokul Sridharan, Dept. of Oral pathology and Dr.Tushar Pathak ,dept. of Periodontics. The afternoon session had a lecture and demonstration on 'Post It' by Dr. Ashwin Jain,Reader.Dept.of Endodontics.Paper and Poster presentations continued from Day 1.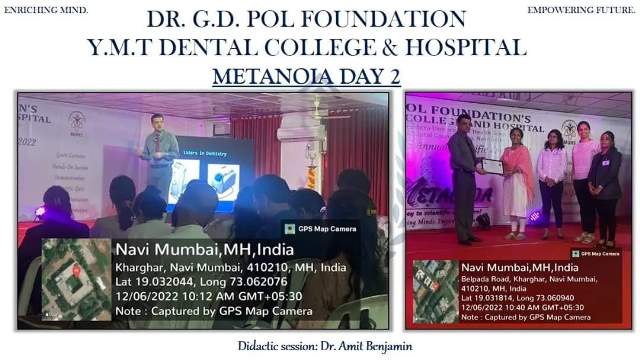 COGNIZANCE 2021
Not withstanding the tough times of the pandemic, learning continued as YMT Dental College and Hospital organized its first ever virtual scientific convention - COGNIZANCE 2021. The event got off to a great start with enthusiastic participation of staff and student delegates from various institutes such as YMTDC , MGM Dental college , Bharati Vidyapeeth Navi Mumbai, Sinhagad Dental College Pune, SRM Dental College Chennai. Guest sessions by Dr. Mayur Davda on Dental Photography -an essential hack for every dentist and Dr. Deepil Mehta on Delicate dentistry-maximize esthetics were engrossing. On Day 2 of COGNIZANCE 2021 Dr. Varsha Rao enlightened us on getting started with Teeth Whitening in our practices. The subsequent session on 'CAD - CAMising Orthodontics - the GenNext Aligner terrain' conducted by the beloved Y.M.T alumini Dr. Viraj Doshi & Dr. Dhaval Fadia was a fantastic introduction to world of clear aligners. The conference also had a session of didactics and hands-on on LASERS - A Paradigm Shift by Dr. Amit Benjamin and Dr. Karthik B. This two day virtual scientific event truly proved that knowledge is indeed beyond boundaries.